How to Switch from Joomla to WordPress ( In 3 Simple Steps). Although Joomla is an excellent Content Management System (CMS), some of you may prefer WordPress. The issue is figuring out how to move Joomla to WordPress.
It can be difficult and time-consuming to migrate a website. Thankfully, in this scenario, we can easily convert Joomla to WordPress with the help of a simple plugin.
In this post, we'll walk you through the three most critical stages for migrating Joomla to WordPress with just one plugin, as well as what you should do next. But first, let's make sure we've covered all of our bases. Let's have a look at them!
Before you migrate, there are a few things you should think about.
Before you migrate from Joomla to WordPress, ensure sure you have enough hosting, a name, and WordPress installed. If you haven't already, you should check into WordPress-specific hosting before making the switch.
Then we'll be able to start the migration.
How do I go from Joomla to WordPress? (in 3 simple steps)
As previously indicated, moving Joomla to WordPress should be rather simple. If you run into any issues throughout the procedure, we recommend consulting the Frequently Asked Questions (FAQ) part of the plugin listed below.
Step 1: Install the FG Joomla to WordPress plugin
FG Joomla to WordPress
Current Version: 3.97.0
Last Updated: May 26, 2022
With your WordPress website ready to go, we need to install and activate the FG Joomla to WordPress plugin. Head into your WordPress dashboard and to the Plugins tab, then click on Add New. On the next screen, type the full name of the plugin and click on Install Now when it appears: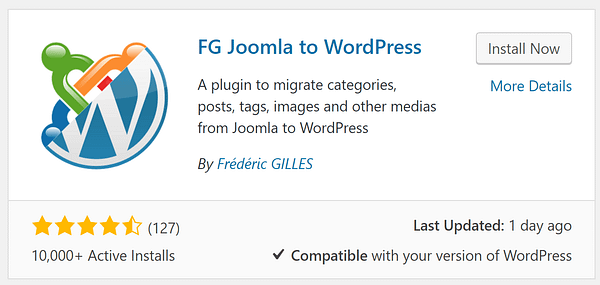 When the installation finishes, the Install Now button will be replaced by Activate. Click on it, and we're ready to go!
For the next step, we need to head over to your Joomla installation, but keep your WordPress dashboard tab open in the meantime.
Step 2: Locate your Joomla database parameters
Login to your Joomla back end and find the System option at the top of the page, then click on Global Configuration:
Select the Server tab and find the Database Settings section within. We're looking for the four fields right below the Database Type drop-down: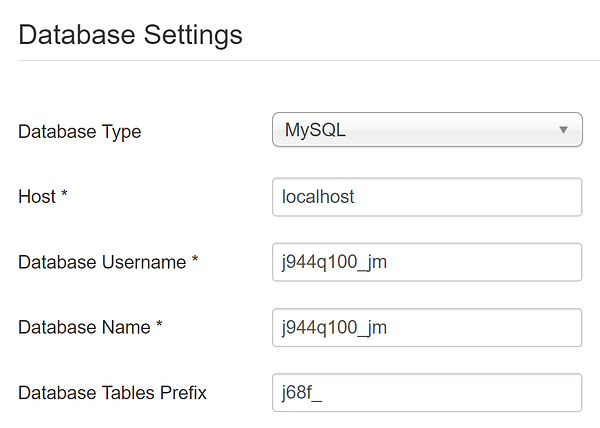 Keep that information handy, because we'll need to use it in a minute. Switch to your WordPress tab now.
Step 3: Migrate your Joomla content into WordPress
Click on the Tools tab and select the Import option. If you ever checked out this section before, you might notice it includes a new option now: Joomla FG. That's the tool we're going to use to migrate Joomla to WordPress. Click on Run importer to start the process:
On the following page, you'll find an Empty WordPress content option right near the top. It will remove all your posts, pages, categories, tags, and media files – if there's anything you need to backup, do so before moving on. If there isn't, select the Remove all WordPress content setting, then hit the corresponding button below:

The removal process will take a few moments, and afterwards, the WordPress database section above will reset to zero, as seen below:

Move down to the Joomla website parameters section and paste the URL of your Joomla site in the respective field:

Under Joomla database parameters, you'll discover a few extra fields. Return to your Joomla tab and paste each parameter into its appropriate field. There should be no confusion because they all have the same names in both sections. After that, click the Test the database connection button at the bottom of the section, leaving the Port column blank: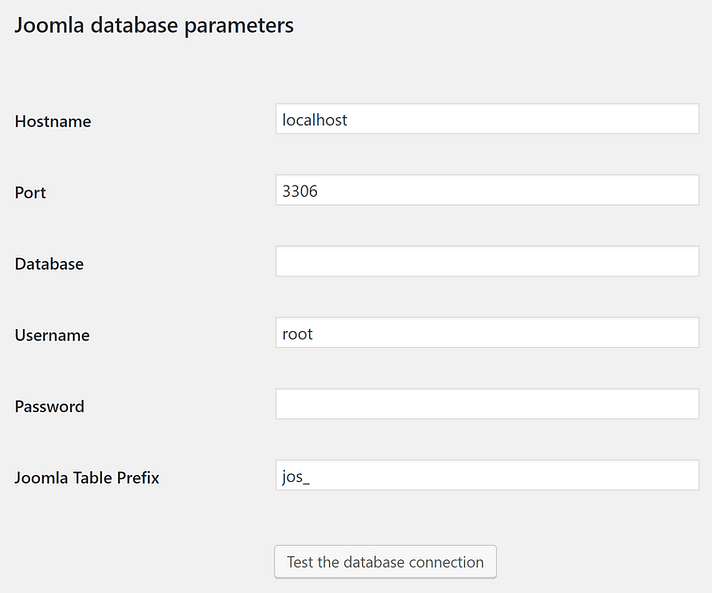 If the connection succeeds, a message saying so will appear right below. Afterward, head down to find the main import options.
The only settings you need to worry about are Archived Posts and Medias. For the first, select Not imported unless you want to do otherwise, and for the latter, select First content image as your Featured Image. Then enable the Import meta keywords as tags setting and hit Save settings below.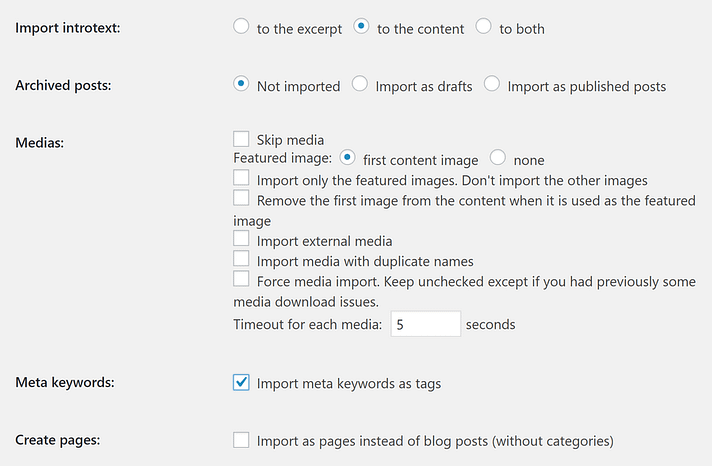 Next, click on the Start / Resume the import button and sit back while the plugin works its magic:

A success message will appear once the migration is complete.
Finally, we need to click on the Modify internal links option at the end of the page. That option will modify any internal links between your posts and pages to their new URLs: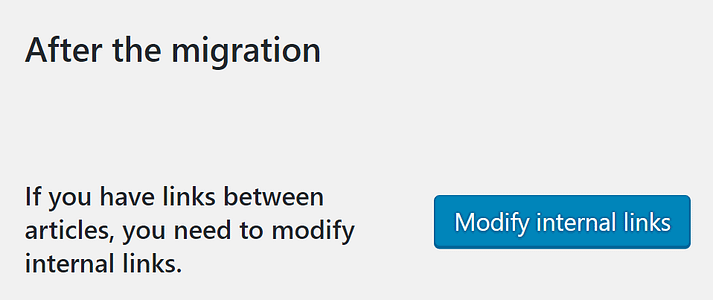 All that's left now is to customize your new WordPress website!
What to do once you've migrated your Joomla site to WordPress
Your site is ready to go, but there are still a few optional steps to get things in top shape before you shout it from the rooftops. Let's take things one at a time.
Firstly, no WordPress website is ready without a great theme to accompany it. Find one that suits your needs, and install it from the Appearance > Themes tab.
The next step is to find any plugins you need to add new functions to your WordPress site. Once you've made your picks, follow these instructions to set them up.
Before wrapping things up, there are three additional steps you should consider: Working on your WordPress search engine optimization (SEO), tightening up your security, and applying some tricks to speed up your loading times. Those last three measures aren't strictly necessary, but your WordPress experience will improve if you follow them.
Conclusion
It's usually a pain to migrate a website, especially if you're going from one CMS to another. Thanks to its Import feature and plugin system, WordPress makes the procedure a breeze. The following are the steps you must take to successfully transfer Joomla to WordPress:
Get your domain and WordPress web hosting ready.
Install WordPress and the FG Joomla to WordPress plugin.
Locate your Joomla database parameters.
Use the Import tool to migrate your Joomla content to WordPress.
Do you have any questions about our guide on how to migrate Joomla to WordPress? Share them with us in the comments section below!
The post How to Switch from Joomla to WordPress ( In 3 Simple Steps) appeared first on B6G.NET| for all information technology.